Last month, my
parents were in town visiting for the second time this summer.  It had been a difficult first part of the
year with several illnesses and deaths in the family, including the loss of my
beloved Grandmother.  It was definitely
time for something different.
A day after my
parents arrival to Seattle, we got on the plane
the next afternoon and met my Auntie Cora (a late addition to the trip) at JohnWayneAirport in Santa
Ana, California.  We immediately drove to Anaheim and got some rest in anticipation of
the next morning.
I got Matt a membership
to D23 "The Official Community for Disney Fans" on a tip by a fellow Disney fan we met on an Adventures by Disney tour over the Holidays.  After years of
supporting many unofficial fan clubs over the decades, Disney had finally decided
to create its own fan club and expo. 

(image provided by Micechat.com)
We made sure to be
at the AnaheimConvention Center by 6:30am so that we
could be one of the first through the doors. 
Much of what we were going to see at the inaugural event was really a
mystery.  There had been a few hints
dropped about guest appearances but just a few days before the actual event–really
too late for us out-of-towners.  Matt and
I dragged my family down there with an almost blind trust in Disney and its
value in quality. 
At the outset, the
Expo didn't seem like anything special–a convention room floor with merchandise
and booths for a number of different facets of the company.  There were displays for anything from Winnie
the Pooh baby gear to Walt Disney 1940's inspired furniture to even Disney label
food like Donald Duck Orange Juice.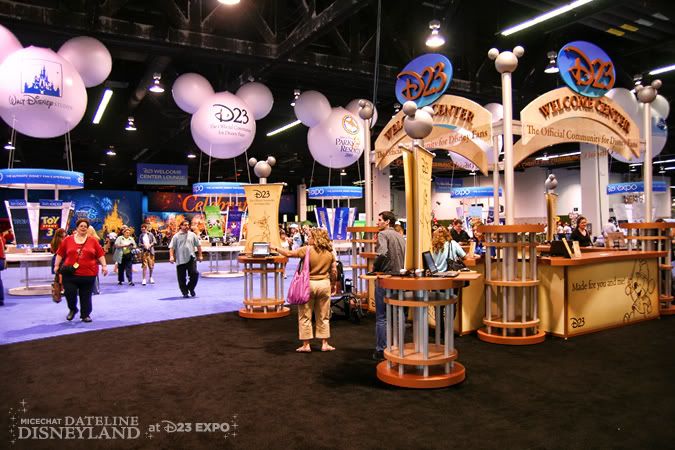 (image provided by Micechat.com)
In true Disney
fashion, most people went straight for the collectables queue.  Matt, my family and I ended up
separating.  I went to wait in a line for
Bob Iger's keynote, while everyone else stood in line to make sure they could
get their share of the limited D23 items. 

Unfortunately, all
of our electronics including our cell phones were stripped from those of us who
went to the keynote so I was unable to convince Matt to drop the merch in time
to join me.  In the keynote, Bob Iger
welcomed some of Disney's most enthusiastic fans to the D23 community.  Then, we were shown the first 30 minutes of
Disney's upcoming film The Princess and
the Frog.
 I got teary-eyed twice during this
keynote: once watching The Princess and
the Frog and then again when Bob Iger gave away a night at the Disneyland
Dream Suite. 
Yes, it may sound a
little silly that I got so emotional, but let me explain why these two moments
were so powerful for me.  On December 11th,
I don't care how old you are or if you male or female, you must go to your
local theater to catch The Princess and
the Frog.  Now, I'm not the kind of
diehard Disney fan that loves every single Disney movie.  In fact, I can honestly say that I probably
haven't even seen ? of all the Disney movies ever made and will admit that I
haven't had the stomach to even watch every animated Disney movie.  But the animated Disney movies I love, I LOVE
with a passion: Dumbo, Bambi, Alice in
Wonderland, Lilo and Stitch, Pinocchio… 
And if what I saw of The Princess
and the Frog is representative of the rest of the movie, it's going to be
added to my short list of favorites.  The
characters are beautiful and likable, the story is strong, the lushness of the
environments was surprising and the animation, oh the animation.  Animation is an expensive and difficult art
and when a company bites the monetary bullet to make a well-crafted animated
film, I not only applaud them, I admire and appreciate them.
So why would I weep
at a giveaway?  No, I did not win the
night at the Disneyland Dream Suite–that privilege was granted to Dan Learn,
another member of the keynote audience.  On
stage, Dan mentioned that he spent a lot of his childhood at Disneyland
because his father worked as a street sweeper. 
Dan's father worked a difficult job for the Disney Corporation and he
was treated well enough by that corporation that his son was there many years
later overjoyed to win this prize at the D23 Expo as a fan of Disney.  How amazing is that?
The rest of the day
was spent running around the Expo with my family and my dear Auntie Cora who
had been one of the most affected by the loss of my Grandma.  Auntie is also a Disney fan but a slightly
different shade of Disney fan from Matt and me. 
And that's another amazing thing about the Disney Corporation; it's been
successful in creating so many different kinds of products and services that
appeal to all sorts of people and all shades of fans are united by Mickey and
the DisneyParks. 

The inaugural D23
Expo was a four day event but we were only able to attend the first two
days.  On the second day, my aunt and
parents decided to spend the day at Disneyland
while Matt and I chose to continue our D23 experience.  We joined another couple we had met on the
Adventures by Disney tour–Stacey and Leo who are two of the most passionate
Disney fans we've met in quite a while–for the Dick Cook keynote.  Dick Cook was the Chairman of Disney Studios
responsible for the movie division of Disney until just a few days after the
D23 Expo.  Cook had started his career at
Disney in 1970 as a monorail driver and was responsible for many important
relationships with Robert Zemeckis, Jerry Bruckheimer, Tim Burton, and most
recently Guillermo Del Toro that helped solidified Disney as a movie
powerhouse.  
During Dick Cook's
keynote, we were treated to cameos by some of my very favorite entertainers
EVER: Tim Burton, The Muppets, and Johnny Depp. 
Add to that visits by Miley Cyrus, Jerry Bruckheimer, Robert Zemeckis,
John Travolta, Kelly Preston, Nicolas Cage, and a video postcard from Guillermo
Del Toro, all in an hour and a half!  I
should not forget the movie announcements made by the celebrities, including a
new Muppets movie, Guillermo del Toro's Disney
Double Dare You movie label and an upcoming Pirates of the Caribbean movie. 

Matt and I completed
our D23 experience by seeing a talk by the Director of the original Tron
and the Producer
of the upcoming Tron Legacy.  We've both been long-time fans of the 1982 Tron movie which brought to light the
idea of virtual reality and introduced CGI to movie making.
The D23 Expo blew
all of my expectations out of the water, as I'm sure it did for many of the
other 20,000 attendees.  Mind you, these
are 20,000 of some of Disney's most avid and vocal fans who quickly blogged
about some of the many exciting Disney announcements made to D23 attendees and
even paid $37/day entry fee to support their habit.  A number of those fans, including us, pay the
annual $75 membership that includes a beautiful shiny quarterly magazine, entry
to exclusive events, and the ability to purchase specific D23
collectables.  Some might say that it's a
racket.  I think it's another brilliant
move by a company that truly understands the importance of entertainment,
quality and fostering on-going relationships with its customers.  The pay-off to Disney is a dedicated,
multi-generational fan base that's been growing since Mickey's Plane Crazy animation back in 1923.