SEO professionals have long been predicting the day when Yahoo! would pull the plug on the old Overture Keyword Research Tool. It seems that day has already arrived. According to SEO Roundtable (link here):


Yahoo! said they would update the tool one last time with data from January 2007. Yahoo! explained that you can get forecasting data "within Panama and through our APIs is a great alternative to Keyword Selector Tool in terms of providing keyword data points for performance and cost."
This explains why the tool has been showing some funny numbers lately. It's still there and it still functions, but apparently is no longer supported by Yahoo! and no longer reflects the true traffic numbers from their network. The 'forecasting data within Panama' that the quote referred to no longer produces quantitative results. Instead it produces relative results much like Google's keyword tool.

Furthermore, it is only accessible to you if you have a Yahoo! Search Marketing account. To access the tool, you must either start a new campaign or add an Ad Group to an existing campaign. It's only then that the 'Choose Keywords' tool will show up.

The screen looks like this:

For some reason, it wants 3 keywords (one on each line) before you can show the keyword suggestions. To get around this, you can enter the same keyword 3 times as I have done in this example: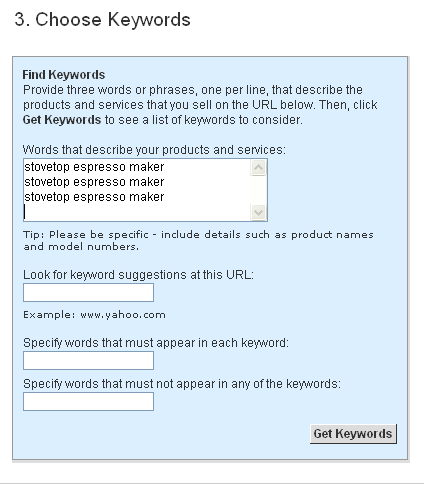 Once you have your keywords in, press 'Get Keywords' and it will return a set of results as shown below: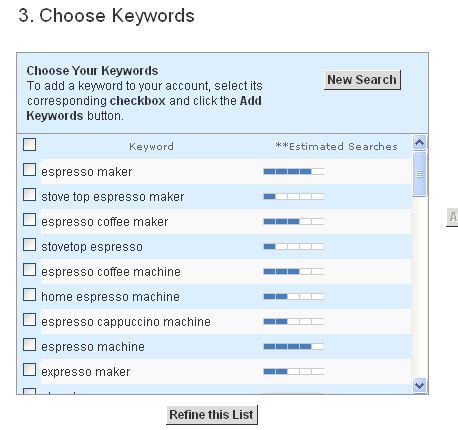 As you can see, the keyword volume is shown in relative terms, not quantitative terms. The bar graph next to each keyword shows the relative volume for each term. There are checkboxes that allow you to select keywords to place into your ad group.

While there are no more hard numbers next to each keyword, this might not be such a bad thing. SEO's have long voiced complaints about the quality of the numbers that came from the Overture Keyword Tool. In any case, if you have keyword research to do and you want to use Yahoo, this seems to be the replacement for that old tool.
Tags: Yahoo! Search Marketing, Overture Keyword Tool, Yahoo! Keyword Tool, Yahoo! Keyword Research