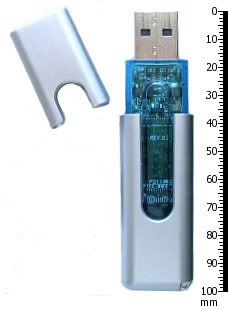 It's no secret that numerous consumer technologies from instant messaging to social networking have found their way into the enterprise.
Yet because some of these technologies were not architected with enterprise security and scalability in mind, they have the potential to be problematic for corporate or institutional users.
But which of these technologies are the most problematic in enterprise settings?
According to a poll on TechRepublic, USB Flash Drives (like the one shown on Wikipedia, with a size-defining ruler on the right side of the image) are the consumer technology that causes the most havoc for IT departments. They are followed by Instant Messaging software and "Rogue Access Ponits."
So what's the problem with USB Flash Drives for enterprise use?
TechRepublic's Jason Hiner writes:
"Portable storage is nothing new. Twenty years ago, users were carrying around floppy discs full of files. However, the size of those old floppy discs limited the amount of data that users could take out of the company. Today, with 4-GB USB flash drives costing $40 or less (and flash drives as large as 64 GB now on the market), users can copy all of their My Documents files to a flash drive and walk out the door with them. Or a user could copy a huge chunk of a file server and walk out with it on an unencrypted USB drive.
"Users need to be able to easily transport their files in order to work from home or on the road, transfer documents to partners, etc. IT has to find ways to make it simple for users to do this while also protecting sensitive corporate data. For example, an IT department could educate users about flash drive security, provide encryption software for those who need to use flash drives, or simply provide company-sanctioned flash drives that are preconfigured with encryption and other security standards. The cost of the flash drives would be much cheaper than the legal fees and/or fines of dealing with customer data that slipped into the wrong hands."