Lately there has been a lot of bank bashing. Big banks have justifiably been taking the brunt of taxpayer anger over big bonuses, terrible customer service, failure to loan to small businesses, and taking TARP money and not giving anything back to taxpayers (except profits) for it.

I want to make a few observations about how I as an ex-banker (now loan broker) see various banks.
Disclosure – I personally bank at Bank of America. I hate the treatment they give me as a consumer. They are very inflexible and their local branch personnel have very little authority to meet unusual needs. However, I am willing to put up with the treatment I receive from them because 1) I pay nothing for my checking accounts 2) They have ATM machines on nearly every corner, their integration with my Quicken is seamless and easy, and 3) No mater where in the world I am I can get access to my account.
Having disclosed my personal reasons why I use Bank of America, I want to take emotions out of the equation and explain why I believe there is a need for a "three tier" banking system in America.
I see the need for mega banks like Bank of America, Chase and the top 25-30 largest banks in the U.S. I see the need for regional banks that have between $1 billion and about $75 billion in assets, and finally I see the need for community banks which I define as having less than $1 billion in assets.
Mega Banks – The largest banks in the country justifiably target two types of customers. They want to bank very large business customers that may have complex structures, multi-national presence, and large loan needs. They also like to make a millions of personal loans to consumers in the form of credit cards, car and boat loans, home equity loans, and other personal loans.
Nearly all mega banks aren't really set up to make loans to small businesses. When it comes to small business lending, their appetite is to make loans to small businesses is based on credit scoring. A $50,000 or $100,000 loan would be a big small business loan for nearly all of the mega banks. Small business lending is simply not their focus or strategy. Among mega banks the only one that stands out for loaning significant amounts of money to small businesses is Wells Fargo. They were the largest small business lender in the U.S. last year and in my opinion have done a good job as a mega bank working with small businesses.
Regional Banks – These banks are large and typically (but not always) cover multiple states. In my definition, regional banks are smaller than mega banks but have assets over $1 billion. There are a number of regional banks in the market. As far as business goes, they tend to serve larger mid-sized businesses, do larger commercial real estate loans. Many have asset-based lending departments. Some have large credit card portfolios, and some focus attention on consumers.
Because each of the various regional banks in the country have different personalities, it is hard to paint them all in the same light. Some are very small business friendly while others are not. In terms of risk of failure, there are currently a larger % of regional banks that may fail in 2010 then either mega banks and community banks. That is because of their exposure to credit card portfolios and large commercial real estate portfolios. There are however many strong regional banks, so if you are a business banking with a regional bank you should ask them for a copy of their Statement of Conditions and see what kind of financial shape they are in. If they have less than 7-8% tier one capital, they are not one of the stronger regional banks. If their Statement of Conditions show large loan loss reserves they are likely to be more focused on worrying about protecting their loans then making new ones.
Community Banks – There are about 7,000 community banks in the U.S. Each one has its own unique personality. Some community banks are chartered by the federal government while others are chartered by state banking regulators. Community banks can be as small as $5 million in assets to as large as $1 billion. Some are business friendly and others don't make many business loans at all. Some community banks focus most of their attention on small and mid-sized businesses.
Because nearly all community banks have correspondent banking relationships with their bigger brothers, they can provide nearly any type of banking transaction you can imagine. Those community banks that are business friendly most often have qualified commercial loan officers who have a great deal of influence about the outcome of your loan request. During the recession and banking crisis of 1988 – 1992, there were about 1,500 community banks that failed. Today the situation is quite different. Although there are a few community banks that are having problems, most are quite sound and didn't get involved in high risk lending like the mega banks and some of the regional banks did.
During the last ten years, many businesses moved away from community banks to the mega banks and regional banks because they believed (incorrectly in my opinion) that bigger was better. Now we are seeing the pendulum swing back with consumer and business customers moving back to community banks. I recently saw the following advertisement from a community bank emphasizing that they were "small enough to serve you." It is clever and true.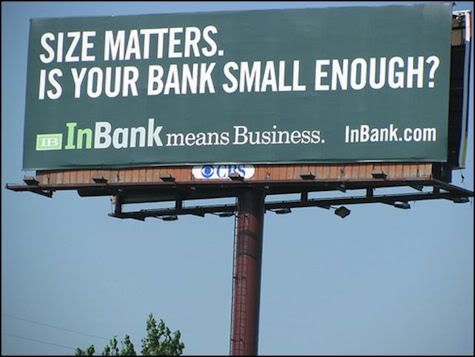 Community banks that do business lending tend to understand the needs of small business owners better than their larger brothers. Since every single community bank is unique, there is no way to characterize them as a group. Business owners should ask their peers where they bank and seek referrals much like you would if you were going to find a new doctor. Do the same review of the bank's Statement of Conditions. Ask the banker to explain their Statement of Conditions to you and make them explain in detail why they are a good bank to do business with.
Whether you choose a mega bank, regional bank, or community bank, if you are seeking a business loan, find a loan officer in the bank you want to do business with. Get to know them. Relationships matter in the banking industry. Make sure you feel comfortable with them and their ability to be an advocate for you in the loan process. The 80/20 rule applies. Only 20% of loan officers are "go getters" and will take the time to understand your business needs well enough to assist you.
Sam Thacker is a partner in Austin Texas based Business Finance Solutions.
You may contact Sam directly at: sam@lesliethacker.com
or follow him on Twitter: SMBfinance
EXTRA: If you have questions for Sam regarding business financing, the credit market, and similar issues, please send an e-mail. Your questions will be recorded and Sam will answer the best ones in his Ask the Expert podcast show.