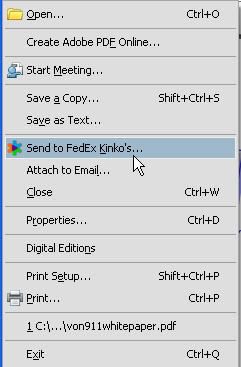 So let's just say you want to print out and ship an Adobe PDF file via FedEx.
One small problem- you don't have the time to print out the lengthy document and then fight traffic to make it to FedExKinkos before the afternoon's pickup.
But if you are runing the new Adobe Reader 8.1, you are in luck.
Starting today, the free Adobe Reader 8.1 (available for immediate download) features a "Send to FedEx Kinko's option within the File Menu as well as a button on the main toolbar, which is represented by the FedEx Kinko's beacon icon.
Here's what you do:
Click "Send to FedEx Kinko's" from within your Adobe software
When you are ready, click Send File within the resulting dialog window to initiate the upload of your document to FedEx Kinko's.
Your Adobe software will now connect to FedEx Kinko's to send your document. While your file is being transferred, your default Web browser will display an "Upload Status" page to enable you to monitor the progress (fig 4, above)
Once your document has been received by FedEx Kinko's, your Web browser will navigate to FedEx Kinko's Print Online where you can Set print options, submit your job, preview your document, select pickup and delivery options, and pay online. For assistance while using FedEx Kinko's Print Online, simply click the Help link located in the top, right-hand corner of the Web application.
Available this month, the more fully featured Acrobat 8.1 also will offer the FedEx Kinko's functionality as an option within the File Menu.