If you run an online business, chances are you've heard a lot of buzz about blogging. That buzz is settling now as YouTube has emerged to be the place where real money is being made.
There are all kinds of video content creators out there, and some YouTubers are making millions of dollars per year with their channels. If you are into gaming, PewDiePie made over $7 million last year playing video games; if you are running a marketing agency, look at the The #AskGaryVee Show.
Or if you are a personal trainer, you might be interested in Bradley Martyn, who has built a strong following with his videos, and over 200,000 subscribers, a merchandise store, and a meal prep service called Lean Meals where you can order healthful prepared food.
There are countless success stories of people who are making their livings through YouTube. Some have built businesses through YouTube, such as Luxy Hair, whose creator started out talking about makeup and then later launched her own product, and people who use videos to market their existing business. Several carpenters have used YouTube to show their work and then take orders.
MKBHD, another popular YouTuber, was named the best tech reviewer by Business Insider. Entrepreneur Marques Brownlee started out making screencasts five years ago when he was just 15 years old, and today he uses RED $10,000 Hollywood-level cameras to shoot high-quality tech reviews.
If you're ready to start your own YouTube channel, here are four things you must do:
1. Invest in a High-Quality Production Setup
If there is one thing that I've learned from my experience, it is that you should invest in quality products that are directly related to your business.
If you are a writer, get a better pen or keyboard; likewise, if you are going to make videos, invest in the best video setup products. These include anything from backdrops to softbox lights. However, the most important thing to invest in is a high-quality video camera.
If you are just starting out and don't have a lot of money to spend, then a vlogging camera is going to be your best option. Plan to spend $300 to $600 for a great "point and shoot" camera like the Canon S120 or Canon G7x with a tripod to shoot videos.
From there, you can step up and get a DSLR camera like a Canon 70D, the only DSLR camera with a built-in hybrid autofocus, which makes it excellent for shooting videos. A DSLR camera also offers great depth of field and sharp video quality. Different types of video lenses allow you to get really creative in your shooting—whether you plan to do tech reviews or talk show interviews.
Also, make sure to invest in a good microphone as you don't want your visually crisp video to have muffled audio.
2. Develop a Consistent Brand and Design
To build an audience, your brand has to be very clear and defined so that your audience can connect with it. Everything from thumbnails to color schemes have to be consistent. This applies if you run a gaming channel like Kwebbelkop, which is all about crazy stunts, or a channel like The School of Life, a YouTube channel with a scope about as broad as its title implies.
The School of Life has a strong and coherent visual and stylistic language that ties all of its disparate pieces of content together into one unified whole. One gets a sense of just how effective this strategy is by looking at the channel's video list in grid form:
No matter what your channel is about, build a brand around it so it performs well in the long run as you continue building your audience.
3. Stick to a Schedule
Following a schedule is one of the most difficult and important things to do if you want your channel to be successful. Whether you decide to post a new video weekly or even daily, following a schedule is very important because you don't want to disappoint your fans if they are expecting a new video from you.
If you are just starting out, choose a schedule that works best for you; however, once you decide on a schedule, you need to stick to it. Posting on Sundays can be fine as long as your content is excellent.
4. Leverage Other Social Platforms
You can't play the YouTube game by ignoring other social media platforms where your audience might be hanging out with their friends.
To reach a wider audience, you should tap into other platforms like Twitter, Facebook, or Instagram where your fans can tag other people to show what they are watching. And if you post updates, your fans can stay in touch with you while you leverage the power of networks in a creative way.
Michelle Phan is one example of an amateur beauty blogger turned YouTube sensation; the way she uses Facebook is quite remarkable. Whenever Michelle releases a new video to her channel, she not only announces it to her fans via a post or video link, she also creates small 15-second trailers that she uploads to Facebook video where it auto-plays while users are scrolling through their feed.
People on Facebook are not looking to watch full-length videos but they are likely to watch small clips, and creating this type of micro-content on Facebook, or even Twitter video, allows you to leverage other social platforms to expand your audience.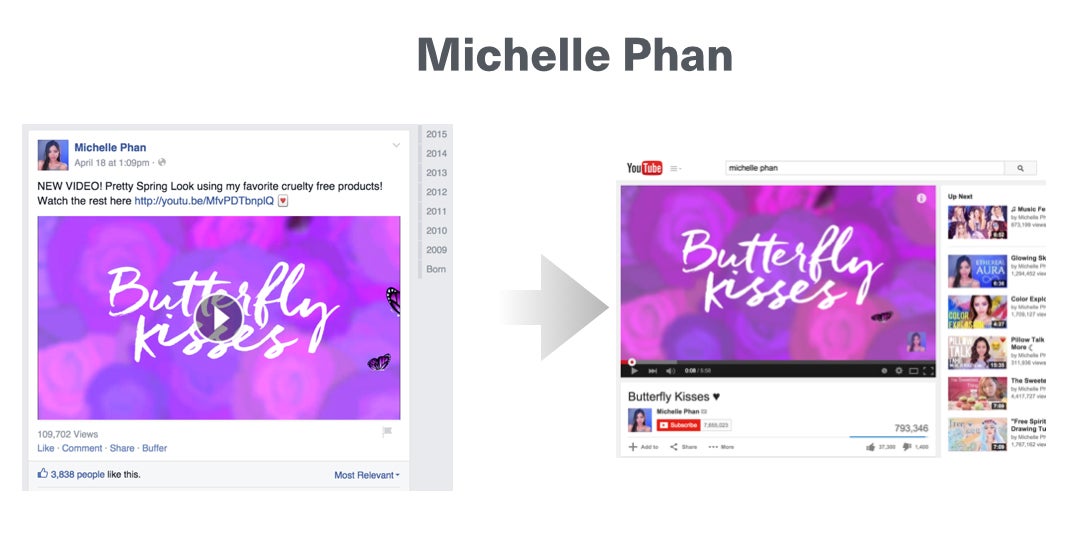 In conclusion, if you want to build a successful YouTube channel with thousands of subscribers, invest in good audio and video equipment, stick to a routine, create a strong brand, and don't be afraid to leverage other social networks. Good luck!