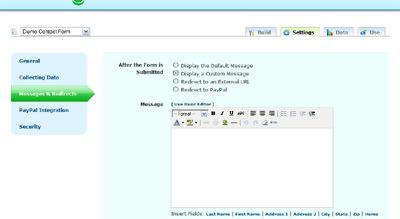 I've just discovered FormSpring, an online Web application that allows small businesses to create, manage, and host online forms without having to know HTML or other code. FormSpring is positioning this application as one that "is perfect for small businesses who want to capture customer/client information without investing in expensive coding/development time."
FormSpring pushed through a significant upgrade today. New features include:
Completely Redesigned Administration Interface
Thumbnail views of forms and templates so you can easily recognize what you're working on
Pop-up form and template controls so you can quickly access functionality
Additional information about your forms on the main page like number of views and date created
Sort your forms and templates by name, date created, and more
Form and Template lists consolidated to central view for easier administration
Form Builder
Drag and drop to add field into the middle of your form
Drag and drop to rearrange fields
Pop-up field controls to quickly access functionality
New field duplication tool to quickly create multiple fields
Field Settings
Redesigned dialog window used in adding and editing fields
Improved skip/branching logic user interface
New pre-select options for select lists, checkboxes and radio buttons

Form Settings
Reorganized grouping of settings to make configuring your forms more intuitive
Inline help text to explain advanced settings
New setting for email notifications that tells FormSpring to only send the link to data via email
Data Views
Redesigned search interface
Improved navigation controls
Great new summary view to quickly visualize collected data
All New Template Builder
Point-and-click template builder to configure styles
Addition of dozens of new styles to help you easily tweak the look of your forms: easily upload header and footer images, change text, background and border colors, change fonts, control layout, and more
Addition of CSS field to quickly add custom styles to your templates.