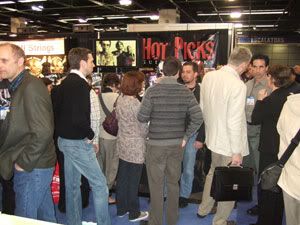 The first day of the NAMM show was nothing short of intense. It was crazy, it was exhilarating and I'm pretty damn happy because I think it was also a success! As you can see from the pictures, our booth was packed. And the crowd isn't showing any signs of letting up soon.
It's a little bit of a madhouse around here, but that's how we like it. Because we're handing out SO many guitar picks, people are flocking around our stand to collect all of the designs. If we've played our cards, er guitar picks right, the buyers and distributors will have seen the phenomenon and want to get in on a piece of the action themselves. We've used this strategy for the past three years and it always works well.
The flat screen television is up and running, which is excellent, but the convention itself is so loud I'm not sure how many more people it's actually reaching. The High School Musical guitar picks are a smash, in addition to the line of Girls Rock jewelry – buyers love the idea of young girls making necklaces and bracelets from the picks.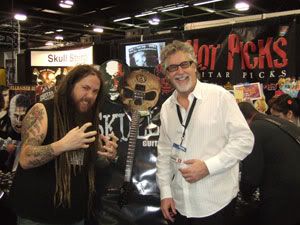 We've also discovered something important about the perception of HotPicks. Although the Omega Skull guitar is going over well, many people expressed surprise that we had made it. I realized that people are coming to our booth solely for guitar picks – if we want to be known for something else, we need to remarket ourselves and reeducate the public.
Our band of guitar pick brothers have been waking up at 6:30 every morning and wrapping up at 8:00, so it's safe to say we're all a little tired… but ready to rock the rest of the four day show!