How rigorously do you track your time and expenses at your business? Even just fifteen minutes here and there that never gets billed to a project or customer because of inefficient systems adds up to a huge chunk of change on an annual basis. Picking and implementing an effective, easy-to-use time and expense tracking system for your company can save tens and possibly hundreds of thousands of dollars annually. The goal of strong time and expense tracking software is to keep 100-percent accurate records of time spent on a project, or on vacation, along with any expenses associated with a project.
When Curt Finch started Journyx in 1996 his goal was to build the best time and project management software solutions possible.
Fourteen years later Journyx provides a state-of-the-art, affordable time and expense tracking solution and a full-featured project management system for keeping complex projects on track. His customers include American Airlines, Sony, and Honda. Though Journyx's average customer has $55 million in revenues with an average per-employee payroll of $50,000, Finche's company also serves thousands of companies that have only a few employees.
Journyx even provides its timesheet product for free to companies with 10 or fewer users — no strings attached. And Journyx has thus far not been affected by the recession, in part because its customers have realized that they could not afford to leave any money on the table in lost billings.
So how should a company pick a time and expense tracking system once they determine they need one? Finch recommends a company should do a complete analysis of their needs and make sure any software they choose meets the following criteria.


Timesheet software should integrate with numerous back-end accounting, billing, payroll, and project management software programs. Many smaller companies use QuickBooks. Integrating easily and seamlessly with QuickBooks is a must.


Timesheet users should be able to have access to timesheet software from anyplace at any time. Using a secure Web-based software program solves this problem. Solutions can be third-party hosted (in the cloud), or hosted on a company's Web server.


Any program chosen should be flexible or customizable to meet a company's existing business processes. Programs that feature an "open-source interface" that allows companies to integrate their existing and legacy system into a timesheet management program help companies operate more efficiently and gain a higher degree of user acceptance.


Reporting of data should be extremely flexible and allow management to view data in many different ways.


Since users of timesheet software are historically bad about getting all their time properly recorded, the user interface must be rock solid, intuitive, and easy to use.
Here is a screen shot of a Journyx timesheet for an individual working on a project. At the user level, it keeps track of billable and un-billable time, mileage, other expenses, manager approval and user individual preferences. In this example, the time sheet is integrated with a project management system.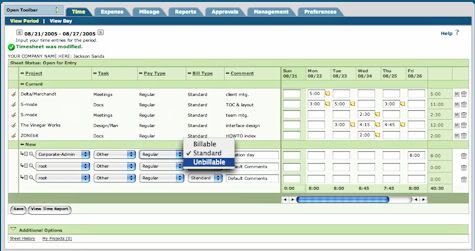 Every company's goal should be to provide the best service they can to their customers and to bill for every reasonable hour spent on projects.