Tatum LLC is one of the nation's largest executive services firms. With over 1,000 employees nationwide, Tatum provides services to midmarket and large companies on an interim or project basis often involving CFO, COO, and CIO talent. Every month Tatum releases a report called "Survey of Business Conditions." This month's survey shows some positive and negative trends among those corporate executives surveyed. Specifically looking back on the past 30 days and forward to the next 60, the survey is designed to assist management in anticipating the "near future" business climate.
After Tatum has compiled and analyzed its survey data, it releases a Tatum Index of Business Conditions. Tatum's index, which stands at 4.0 for October of 2009, is up from an index low of 0.4 in November and December 2008.
Tatum Index of Business Conditions – October 2009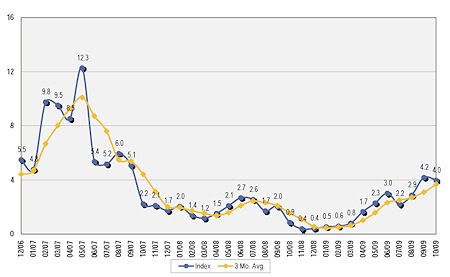 Chart – Tatum October 2009 Survey of Business Conditons
The most significant component change in the index for October is the ratio of "Improved-to-Worsened" in the last 30 days. This is a ratio of those surveyed who indicate they believe there is an improving trend versus those who believe overall business conditions are worsening. In October 2008 the ratio was .47, today the ratio stands at 2.34. That is a five times increase. It is also the first month since September 2007 that the ratio has been over 2.0.
The ratio of "Will Improve-to-Will Worsen" for the next 60 days was down slightly over September, but significantly improved over the 13-month average. Tatum analysts Sam Norwood, a senior partner, and Glenn Passin, a Tatum partner, indicated in their presentation that this is highly sensitive data and needs to be looked at on a three-month moving average.
Another positive measurement in the Tatum data is the Capital Expenditure Commitment. During the last 30 days, the percentage of respondents indicating they have increased capital expenditures rose from 13 percent to 15 percent, while the percentage indicating they spent less decreased from 37 percent to 29 percent. Over the next 60 days, respondents planning to spend more on capital purchases increased from 22 percent to 25 percent and the number of respondents indicating they plan to spend less decreased from 21 percent to 15 percent. The Tatum analysts believe that if this trend continues, it will be good evidence that the recovery is beginning to gain traction.
While employment data continues to be soft, Tatum's data suggests that companies are decreasing their expectations of further job cuts. The percentage of respondents indicating they intended to hire more workers during the next 60 days rose one point from 21 percent to 22 percent, while those expecting to get rid of workers decreased from 17 percent to 12 percent.
Access to credit continues to be a problem according to the Tatum Survey:
"Financing remains problematic for all but the most creditworthy borrowers. The banks continue to try to rebuild their capital base and remain very cautious. Most small banks have significant exposure to commercial real estate, an area that remains a concern.
The outlook trend is more cautious than the recent past. Capital availability is one of the keys to a sustainable recovery, and the need for capital will increase as the recovery gains momentum. Therefore, we are watching this indicator with particular attention."
If you want to receive Tatum's future surveys, you can sign up on the Tatum LLC Web site for their regular newsletters and special studies.

---
Sam Thacker is a partner in Austin Texas based Business Finance Solutions.
You may contact Sam directly at: sam@lesliethacker.com
or follow him on Twitter: SMBfinance
EXTRA: If you have questions for Sam regarding business financing, the credit market, and similar issues, please send an e-mail. Your questions will be recorded and Sam will answer the best ones in his Ask the Expert podcast show.