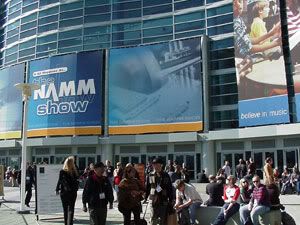 It's the virtual calm before the storm – the day before the actual NAMM show begins. The convention is still bustling with people, but we're in the process of setting up our booth, waiting to hand out guitar picks. The excitement in the air is contagious.
Our motley crew set out in the early a.m. this morning, and everything has gone pretty smoothly so far. The plasma screen isn't tall enough however, and we're waiting to see if it's going to be fixed in time. Maybe, maybe not. I've experienced enough disappointment to know not to be too tied to any one idea, any one plan, in case it falls through. Be a little skeptical, I'd advocate, and very flexible.
The "set-up" day of a tradeshow is sometimes the most important one. It gives larger distributors and buyers the chance to scope out newcomers and eye what everyone else is showing and doing. We've already had an international buyer express interest in the Omega Skull Guitar – could it be shipped directly from production to distribution in Europe to cut costs? He thinks it could be a huge hit. I'm thrilled the guitar is getting such a warm reception, that my gut feeling is already checking out.
The pace is picking up around here, and things are starting to get a little crazy, so it's back to work. Enjoy the "before" and "after" pictures. It's amazing what some graphics and cardboard cut-outs can do for you!