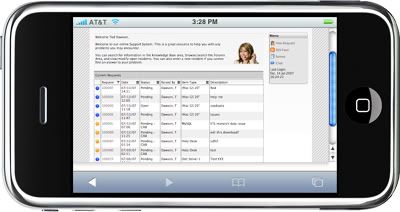 It's now a little more than a month since Apple and AT&T Wireless introduced the iPhone.
Upon its debut, most of the focus was on the coolness of the device and the mania of crowds- everyone of whom wanted one.
Nevertheless, we saw, and are seeing, some discussion of iPhone as an enterprise-friendly device. Some sites are even gathering examples.
Since many of you readers are enterprise or SMB (Small-Medium Business) types, I thought I would write a post asking you if you've tried the iPhone at work, and if so, what your experiences have been so far.
Is the device equipped with enough enterprise-level functionality? Is the iPhone's utilization on AT&T's slow EDGE wireless network a hindrance? How efficient is iPhone to use on the road?
Let me know by submitting a Comment to this post. I'll look at what you are telling me and might make a new post from your comments.