The office is strewn with guitar picks. Skulls and glue sticks paper the floor, the computer furiously prints last designs, and I'm anxious. We've a mere few days to finish months of preparation.
The countdown to HotPicks's fourth NAMM show is in full force.
I'm excited to show new products at the tradeshow, to experience the surge in adrenaline as the massive crowds rush my booth, and to party at the free music venues and mingle with potential customers. I'm excited to give away 30,000 guitar picks. I'm excited for five days of fun- and sheer exhaustion.
But attending the show is also a little nerve wracking. I have to ensure that my business keeps running, that orders are processed and shipped and all hell doesn't break loose when we leave. I've been designing brochures, creating pricelists, putting together displays, ordering samples and racking my brain for any last items we might possibly need for the show.
I'm also a little nervous about some of our products. We've created a new guitar in the shape of one of our most popular guitar picks – the Omega Skull guitar. I love it, but will it be a hit? My gut tells me yes, but there's no way to be sure… I'm hoping people are excited about all the different possibilities the Omega Skull launch could open.
And there's the Suicide Girls. They're contemporary, hip, hot. But there's potential for a cold reception. Although we aren't using any pornographic images of the models on our guitar picks, some exist. Let's just say, it's not your father's Playboy. My hands are sweating a little on this line, but it's a risk worth taking.
We'll also be showing our own little commercial on our latest addition to the booth – a 42-inch plasma screen. Hopefully showing all the press we've received and all the products we produce on a television will broaden our audience and reach those who may have been previously lost in the crowd. Click Here to watch the video.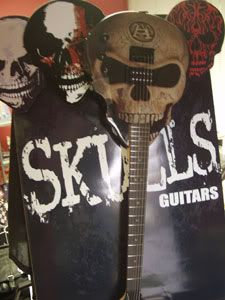 Enjoy the pictures of our work in process! Though the finished product may look polished and even fancy, the process is anything but. A solid idea doesn't need to look slick – it shows itself.
Anaheim, here we come…