Every once in a while, I get a piece of direct marketing mail so very bad that I need to share it! This is a letter I received from a real estate company in Arizona. For obvious reasons, I have blacked out the name of the company and the name of the broker who sent this 'masterpiece'.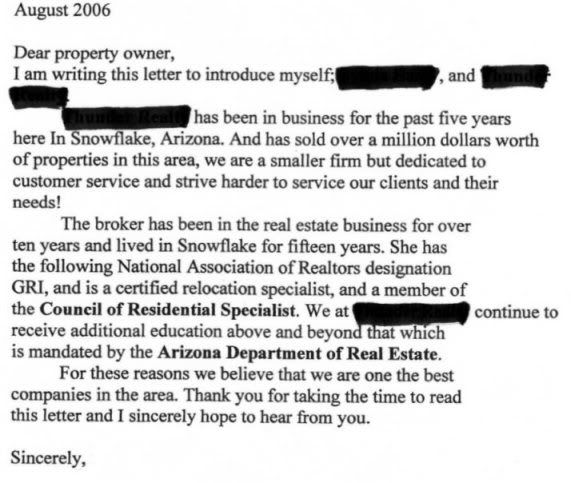 Aside from the grammatical problems, what's wrong with this letter?
Vague Purpose – I have absolutely no idea what this woman wants me to contact her about. She obviously did some local public records research, learned that I own a small ranch property nearby and put me on her mailing list. But what does she want me to do? Does she want to help me sell my ranch? Does she have a buyer who is interested in it?
What's in it for Me? – This letter talks only about her and the company. There is nothing about what the Real Estate firm can do for me (tying in with the above). I might want to know about the company attributes before I do business with them, but until then, I want to know "What's in it for me?"
No Call to Action – There only a hint of call to action where she said "I sincerely hope to hear from you". Make me want to pick up the phone or send an email. Don't beat around the bush and don't "hope".
Ok so what does this have do with Home-Based Businesses? As small home-based businesses, we often have to do our own work in every aspect. With tight budgets, many small home based businesses can't afford to hire a copywriter and must design their own direct marketing campaigns, including the letters. If that's the case, keep these 3 points in mind – Have a sharp focus, offer the targets a solution to some problem, and have a specific call to action.
As for what I will do with this letter: Probably file it under "Don't do this".