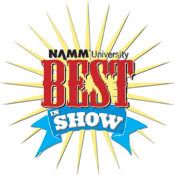 NAMM 2008 went extremely well. Our marketing strategy created the buzz we desired around our booth, our new products, like the Omega Skull guitar and jewelry packs, were welcomed enthusiastically, and HotPicks even took home a second "Best in Show" award, for its line of High School Musical guitar picks. The four days went, all in all, pretty perfectly.
The success is really gratifying. I love that it proves that all you really need to do well is have a solid product. Our booth, a simple 10 by 10 foot corner, was located leagues beneath and away from larger and wealthier companies in the showrooms upstairs. Their booths are gorgeous. Our chairs and tables? Purchased from WalMart and Staples. You don't need money to draw attention – just a good product. We're fortunate that our product is so inexpensive we can give away guitar picks in heaps, but regardless. I'm proud we operate on a sort of "bare bones" approach. It works.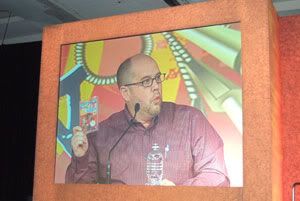 In some ways, now the "real" work begins. We're thrilled to have people excited about buying our new products – but now we have to undertake the fun process of organizing inventory, fixing production complications, making sure the timing is correct… I love creating products. But this part of the process demands I wear different hats. I'm asking myself now, "How do we actually make this happen?" It's the sort of question I feel thankful to be asking at all.
A competitor approached me in the bathroom one morning at NAMM – a smaller competitor, but one nonetheless. He began asking me about my intellectual property, in a sort of roundabout way. Could he use some of my ideas? How would I react? Would I pursue him legally? How awkward are YOU? I wanted to reply. He basically wanted to know if he could rip me off! Although I saved the situation temporarily by proposing a couple ways I could help him, or perhaps we could work together, it was still startling. Protecting your ideas and your products can be achieved in a number of ways – forthcoming blogs will show you how.