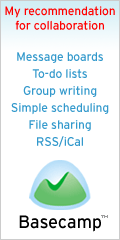 Apologies for the old-school game reference. I'm a total poser–I've never even seen the game, yet I frequently misappropriate that phrase. Anyway, I've been using Basecamp for a while, both on personal and professional projects, and I'm a big fan. If you're not familiar with it, Basecamp is web-based project management software for the masses. Also, Basecamp just got an upgrade over the weekend that makes me love it even more.
Probably everyone has heard about Microsoft Project, or other software that's focused on managing big projects. Basecamp kinda takes the tenets of good project management and incorporates them into a web-based software package that's easy to use and generally intuitive (for folks who are used to web-based software). It doesn't have nearly the feature set of something like Project, but it isn't supposed to. It seems to be aimed at relatively fast, collaborative project work and, in my experience, it excels in that space.
Basecamp offers several tools for collaboration–pretty much the stuff you'd expect, like file uploads, threaded messages, simple scheduling for milestones, to-do lists, and "writeboards" which are like single-page wikis. You can even keep track of projects via RSS or the iCal standard. Most of this stuff is intertwingled, too. Meaning you can upload a file and associate it with a to-do list, and so on.
In my job there are challenges to changing the way people work on projects together. First, and most importantly, in my organization we've got to recognize "projects" when we see them, and manage them accordingly. Currently, everything happens in a sort of ad hoc way through email, meetings, private conversations and hardcopy folders. Needless to say, there are opportunities for gaps in communication. Basecamp helps fill some of these gaps and makes the project more transparent for those on the team. It still takes a process "champion" though; someone who is willing to continue to advocate for the platform until it takes hold with everyone.
This can be tough. For instance, when you add something to your Basecamp project, you have the option of sending notification to all or some of the individuals associated with the project. The resultant email says, right at the top, "DO NOT REPLY TO THIS EMAIL." Of course, that just means that replies will go nowhere and that you should log into the site to respond (if needed). However, my experience tells me (just last week, in fact) that some folks will interpret that as "THIS IS A ONE-WAY COMMUNICATION. IF YOU FEEL YOU MUST RESPOND, YOU SHOULD WALK DOWN TO MY OFFICE AND SPEAK TO ME IN PERSON." Which kind of defeats the purpose of shared workspaces, eh?
Another nice thing about Basecamp is that when everyone is onboard and pushing all project communication through it, nobody is ever left wondering who is responsible for what, or how far along it is in the process. Meeting minutes are readily available, as well as supporting files. The message board option means that everyone always has access to the group and work can keep moving even between (and in spite of) meetings. Writeboards allow for time and place-shifted brainstorming, with an accessible record of what developed.
Beyond using all the whizbang features, it's also great for super simple distributed task tracking. I needed to update third party website with a bunch of information about our graduate programs, but I'm not the most knowledgeable person about that stuff. I distributed the work among the folks who really know the programs and set up to-do lists for each of them to check off each program as it's updated. I just created a new project, with a single milestone and a half dozen to-do lists. Each list is associated with the milestone. Basecamp is one of the default start up pages when I fire up my browser, so I always know the status of all the outstanding projects. Kinda like a poor man's executive dashboard.
So yeah, I'm a big fan. Along with another guy, I'm presenting a talk at the national association for university financial aid people this summer. The talk is all about making things easier in the working lives of financial aid folks. I'll be pimping Basecamp in a big way–it's that helpful.
At my university, I know of at least three departments who rely fairly heavily on Basecamp for managing projects. Our IT folks have used it pretty thoroughly, I'm using in in graduate admissions, and I know our Theatre department is a heavy user for managing the design, construction and rehearsals of all of their productions. I wonder how many other universities are using Basecamp?